There's a better way to build your online business
I'm sure you've been told that there's a better way to build your online business than building everything from scratch. And I agree! But finding the time and resources is tough. Right? You need help running your business, selling products and services, connecting with customers and community...and even building your website. It can be difficult to find solutions that are affordable yet powerful enough to do it all. That's where Simplero comes in!
Simplero is an easy-to-use platform that gives you everything you need for all of these tasks - on one easy-to use platform. Membership Sites are designed specifically for people who want an online course or membership site of their own;
If you're a business owner, creative professional or entrepreneur. You need to build your online presence and sell products and services. And you want it all in one place. No matter what your industry is, there's a better way: Simplero!
Simplero is the only platform that gives you everything you need to run your business from just one website:
Sell products/services & collect payments on the go with Shopify;
Publish courses and sell them through Membership Sites;
Build a website (or design an existing site) on our designer-friendly interface with free hosting and domain name included!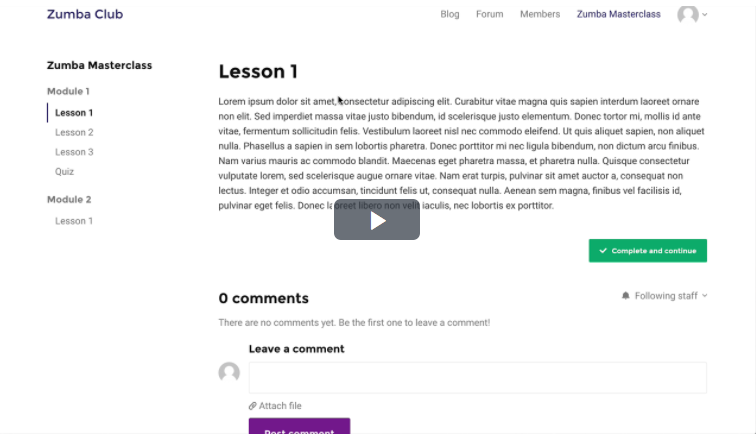 Simplero has everything you need to manage an online business including: Sales + Marketing Tools, Blogs & Newsletters Built-In, Membership Sites with Online Course Platform (no fees!), Project Management Tools and even a Website Builder!
The Simplero.com team has been building software for over 10 years, and they have learned a few things about what it takes to build an online business that generates income consistently. There are many different ways you can go about making money with your website or blog, but the one thing they all have in common is that they take time and effort on your part.
If you want something quicker, easier, more profitable and less demanding of your precious time then consider signing up for our free trial account today at Simplero.com! We look forward to hearing from you soon.
***Sign up for your free Simplero trial account today.***
Get the brand new Membership Sites + all of the other features you need to operate your growing business.
Remember how I said we need your work in this world and that it matters? I wasn't lying.
We do, so now's the time to take action.
***Get your Simplero account here.***
Your biggest supporter,
Kenneth Choo